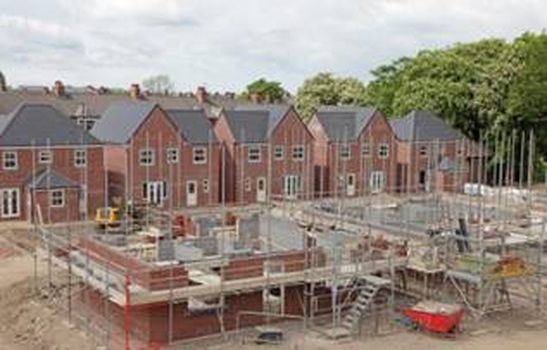 Analysis by the Local Government Association shows that 2,564,600 units have been granted planning permission by councils since 2009/10 while only 1,530,680 have been completed.
The association said the number of planning permissions granted for new homes has almost doubled since 2012/13 with councils approving 9 in 10 applications.
New build completions have only increased by half as much in that time.
But completions last year were the highest in any single year in the past decade.
HS2 to go ahead in full
Whole project officially to cost £88bn, although some estimates put the likely cost at £106bn
The decision ends months of agonising wait for the key contractors selected to deliver main civils works on England's largest-ever infrastructure project.
It will comfirm the independent Oakervee Review recommended the project go-ahead in full.
Contractors will now begin to mobilise over coming weeks once main civils works contracts are signed off for the route from London to Birmingham.
Estimates for phase one civils are now more bolted down after rising 85% to £10.7bn.
While the whole line will be built, the government will seek a review of phase 2b, covering the Northern stretches of the route to try to control costs after latest unofficial estimates have put the final bill at £106bn, triple the original budget.
This review will apply to the Crewe to Manchester and Midlands to Leeds stretches.
Tenders for the more advanced phase 2a civils, which will see the line extended to Crewe from Birmingham, will be invited in 12 months time.
Government cuts flow of EU construction workers
EU construction workers looking to come to this country will have to earn at least £25,600 and speak English under new immigration laws.
Home Secretary Priti Patel has confirmed a new points based immigration system which will "end free movement and reassert control of our borders."
From January 1 2021 immigrants will have to reach 70 points to work in the UK.
The government has decided not to make any exceptions for "low-skilled" workers which is expected to have a major impact on construction.
Skilled workers are now defined as those earning above £25,600 and who hold qualifications equivalent to at least "A" levels – which cuts out a lot of construction trades.
Construction workers will have to be paid above that level, have a job offer and appropriate skills plus speak English to have any chance of hitting the 70 points needed.
Patel said: "We're ending free movement, taking back control of our borders and delivering on the people's priorities by introducing a new UK points-based immigration system, which will bring overall migration numbers down."
The moves have been condemned by industry leaders.
Chief Executive of the Federation of Master Builders (FMB), Brian Berry, said: "If we are to have an infrastructure revolution and build a million new homes over the next five years, we will need to have an immigration system that allows for key construction workers of all skill levels to come to the UK.
"We will need general labourers as much as architects or surveyors. They are a core part of the construction industry and it's simply unrealistic to assume the domestic workforce will fill this gap in the next nine months."
Hew Edgar, Head of RICS UK Government Relations & City Strategy, said: "This new points-based system could get in the way of construction companies employing the migrant labourers they need. "Stopping people who know how to build houses from working here risks ministers not getting the numbers of new homes they want – it's as plain and simple as that."